Nkhensani Nkosi image sourced online
My first introduction to an African high end brand was Stoned Cherrie, a South African fashion line, that first launched its brand in 2000. South Africa was still a new democracy and there was a sense of rebirth in much of the artistic expression, a kind of creative activism. In music, the distinctly South African sound of Kwaito had firmly entrenched it's place as a soundtrack to the lives of the youth and the emergence of house music was starting to take shape. It was no different in the fashion space, brands such as Loxion Kulcha and Magents successfully captured the streetwear culture of the time and Stoned Cherrie and Sun Goddess launched the high end alternative to the urban South African aesthetic. I immediately fell in love with Stoned Cherrie, their clothes had a way of just speaking to how I wanted to express myself; young, black, feminine, African and proud. Their long Seshweshwe maxi skirts, Steve Biko t-shirts and other beautifully designed and african-inspired pieces mixed modernity and culture so well.
Since then, I have actively sought to look for luxury African designers. Curious to see how other designers narrated their own experiences through design. Whether I had access to their pieces or not, I started reading up on designers from across the continent who were producing amazing work and interpreting fashion in interesting and unique ways.  A few of the designers I've discovered and fallen in love with are Lisa Folawiyo of Jewel by Lisa , who's designs stand out for her use of prints and unexpected silhouettes, check her pieces here, Taibo Bacar, Ozwald Boateng, Duru Olowu, Thuli Sindi, Maxhosa and Marrianne Fassler of Leopard Frock, just to name a few.
Jewel by Lisa Spring/Summer 2018 via www.lisafolawiyo.com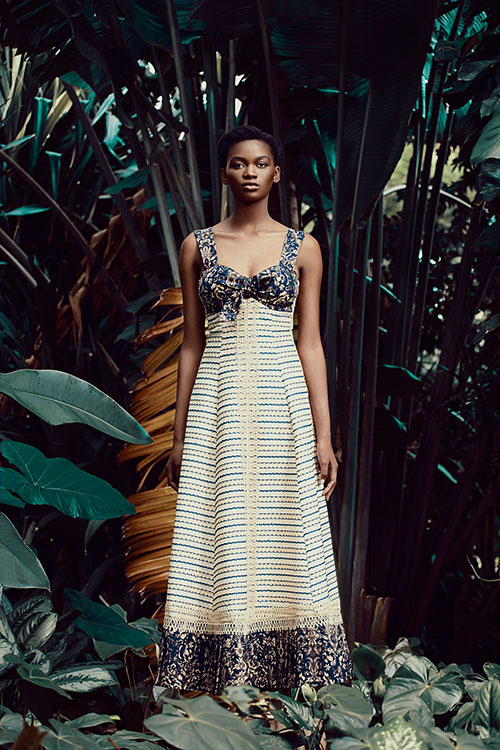 Taibo Bacar Fall/Winter 2017 via www.taibobacar.com
But traditionally, African designers haven't successfully transitioned into the global fashion space at the scale of other well known designers. But, if you do some research, you will realise that Africa and its many traditions and cultures have long influenced the world of fashion, from Yves Saint Laurent to Louis Vuitton, Africa's enormous influence is clear in many designer collections over the years. So, where are the African luxury brands to represent the authentic African voice and perspective?
Louis Vuitton Spring/summer 2012 image sourced online
Yves Saint Laurent African and Safari collection image sourced online
Ozwald Boateng, a Ghanaian- British designer recently penned an article for British Vogue where he writes about the inclusion of African and black voices in fashion and how he feels Africa's time is now.
There's a real opportunity for it right now. Look at fashion in 2018 and you see Africa is having an incredible influence culturally. To see black culture finally celebrated is a great thing. There's no longer a line that says if you do this you're not a part of the world of creativity somehow, you're just doing some weird ethnic thing that doesn't relate. But now suddenly, it does relate and that's great. It means that everyone's culture gets a voice finally.
I hope he is right, the needle definitely seems to be moving towards better representation in fashion. Newly appointed editors, Edward Enninful of British Vogue and Radhika Jones of Vanity Fair are great examples of fresh new faces in positions of power in the industry who are already contributing to creating a more inclusive fashion industry with designers from all parts of the world.
♥
Nandi